Drive direct traffic with Google Things to do
September 1, 2021
Drive direct traffic with Google Things to do
GlobalTix Integrates with Google for [Tickets / Tours / Activities] Booking Links
Now attractions & tour operators can work with GlobalTix to show ticket booking links on Google
Sign up free with us: https://bit.ly/3tkyi4g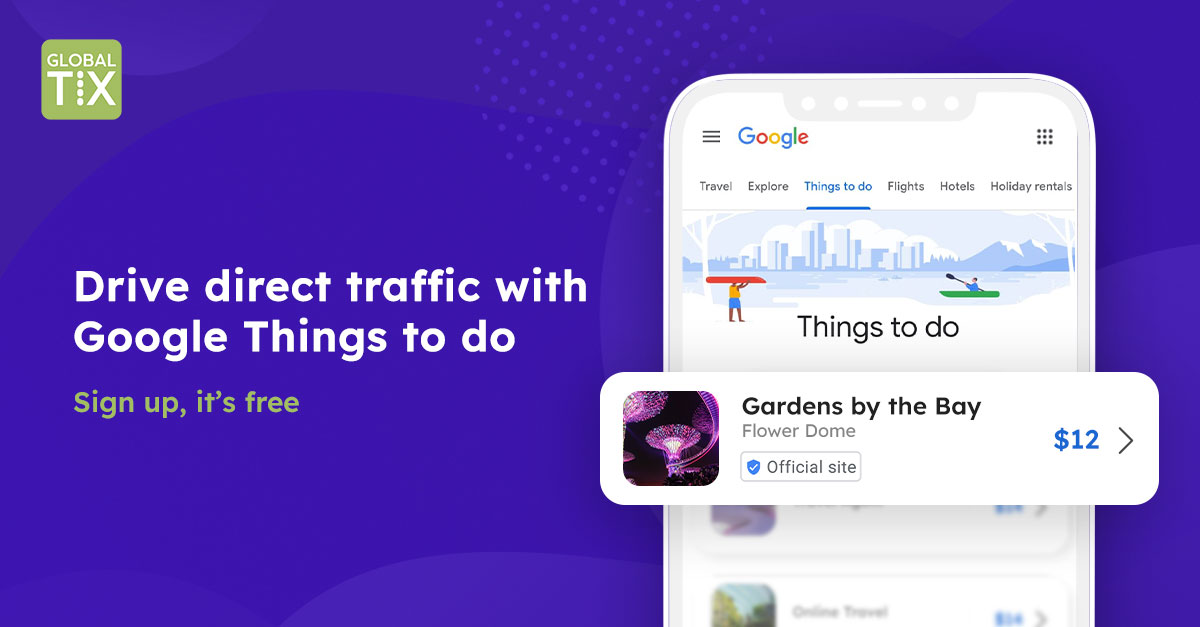 GlobalTix, the leading reservations technology provider in Asia with a global distribution network, today announced the launch of a new integration with Google, allowing attractions and tour operators to show free ticket booking links directly on Google Search. This new functionality will help drive bookings by making it easy for users to click through and book tickets directly on supplier websites. Free ticket booking links mean that suppliers can show their offers to potential customers without needing to take part in paid advertising campaigns.
Attractions and Tour operators can look forward to selling directly to consumers on their website by partnering with GlobalTix to capture sales opportunities generated through Google. Existing attraction and tour operators who are already on GlobalTix's platform will have a seamless experience in seeing their ticketing links made available on Google.
GlobalTix offers a full suite of ticketing solutions that enables tour operators to manage their own direct sales channels (websites, POS, eCommerce), extend their distribution network (B2B connectivity), and simplify their operations.
CEO of GlobalTix, Chan Chee Chong says "as a leading B2B player in Asia, we are very excited with this integration to help our attraction and tour operator partners list on Google Things to do. I am certain our partners look forward to this new channel to boost visitorship and revenue during these difficult and challenging times. The integration with Google Things to do will expand the wide range of distribution channels already made available through GlobalTix which includes its global marketplace with over 2,000 travel agents and the fast-growing eCommerce platforms.
In solidarity with our attractions and tour operator friends to digitalise and tide through this pandemic, GlobalTix is offering its SaaS solutions (Software as a Service) at no cost until when we see recovery on the horizon. I truly hope that this little gesture demonstrates our support for them and helps them tide through this period."
About GlobalTix (www.globaltix.com)
GlobalTix is an award-winning technology and distribution player in the Asia-Pacific region focused on providing end-to-end solutions in the attractions, tours, and activities space. GlobalTix also enables the attraction and tour operators to seamlessly connect to a global network of travel agents and affiliate partners.
Founded in 2013, GlobalTix is used by renowned attractions like Gardens by the Bay, National Gallery Singapore, and travel partners such as Singapore Airlines and many global online travel agents (OTAs).


Subscribe To Our Newsletter
Receive the latest news and resources in your inbox